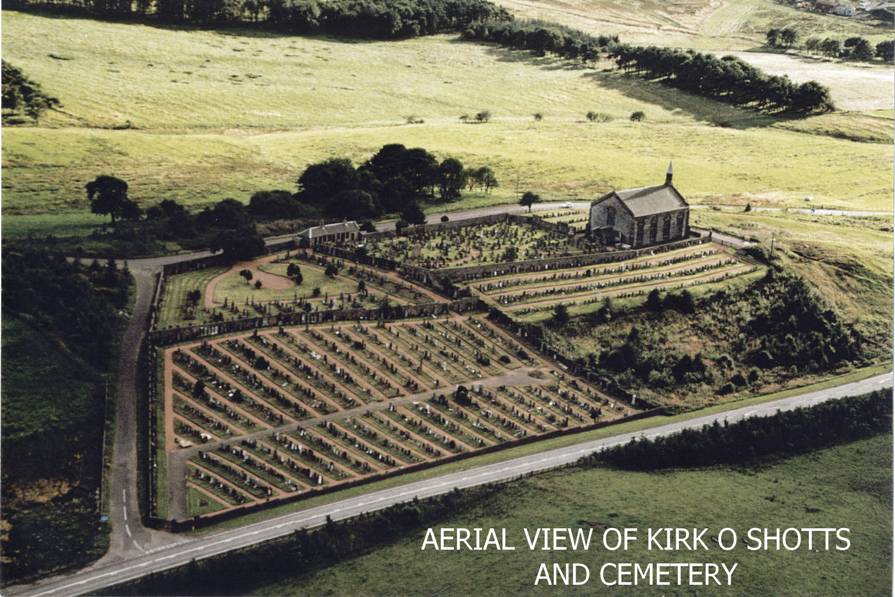 A COVENANTING WILDERNESS
Your feet will take you into some strange places if your heart lies there. On an October day I set out for one of the dreariest bits of moorland in Scotland. The day was damp and dull, with low clouds that threatened rain, mist on the heights, and that strange stillness in the air which is a presage of the dying year. We were making for Darmead, but we took one or two covenanting shrines on the way. The Kirk of Shotts was one of them - that high sanctuary which stands four-square to all the airts in a cold bleak country-side. There was a church here as long ago as 1476. An old story has it that one Bartram de Shotts was a great robber who lived in the neighbour - hood in the time of Robert II, pestering the people with his depredations. At length the Government decreed that whosoever should apprehend, kill him or bring him to justice would be rewarded with certain "shotts" or "plots" of land. A local daring-doer, the laird of Muirhead, gathered together a few trusty followers and stalked Bartram to one of his lairs in the valley to the east of the church. After a stiff fight they slew him, cut off his head, and brought it to the King. In the bad days that was the way of giving sure proof that work had been well and truly done. As a reward the laird of Muirhead was given the lands of Lachop and Bullis. Sir Walter Scott refers to him in the five-verse ballad in the "Minstrelsy of the Scottish Border.''
Afore the king in order stude
The stout laird of Muirhead,
Wi' that sam' twa-hand muckle sword
That Bartram felled stark deid.
The parish of Shotts bulks large in covenanting history. The Rev. John Livingstone, after Communion on 21st June 1630 preached a sermon on the Monday in the churchyard Which kindled the flame of revival that spread over a large part of Scotland-a flame which even the persecutions of the next generation did not extinguish. But it was a superstitious age, and not many years after the revival we find the kirk-session of Shotts
dealing with a number of witches. Indeed, in 1683, thirty men met between the Kirk of Shotts and Cambusnethen, who had forsaken the ordinances of God, and there did debate the authority of Scripture, and thereafter played at football with them [the witches], and after that burned them; this was verified by two ministers, Mr William Violent and Mr John Oliphant, who had certain information of it.
In 1650 Cromwell marched through Shotts with all his "Horses and fute, by the Muir-way and the Kirk of Shotts, whare they had much difficulty to carey their cannoun and guns.'' Not long after this the Great Protector used these words in his indictment of the Covenanting ministers before Dunbar; "I beseech you in the bowels of Christ think it possible that you may be mistaken.'' Many of Shotts people were stout Covenanters, and
some of them took part in the Pentland Rising, in the affair of Drumclog, and in the battle
of Bothwell Brig. The churchyard has its inevitable Martyr's Stone. It stands upright, and
on one side bears the following inscription;
Here lyes the bones of William Smith, who lived at Moremellon, who with others appeared in arms at
Pentland Hills in defence of Scotland's Covenanted Word of God in opposition to popery, prelacy, and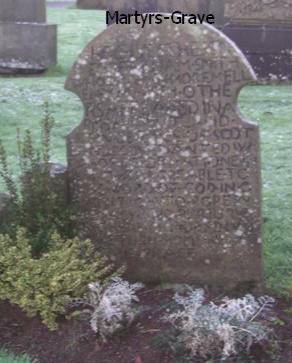 Perjury, and was murdered on his return home near this place.
It's a weird story. William was returning from the Pentland Rising when he called at a house not far from Moremellon, or Muirmailen, a little to the north of Murdoustoun. His brother, growing anxious about him, went back on his tracks to search for him. As he crept past the farmhouse, he looked cautiously in at the window, and to his horror saw two men and a woman surrounding his brother William, who had a spit or rapier through his throat. The onlooker fled for his life, and durst make no immediate inquiries. Some years after the Revolution, the headless body of William Smith was found in a peat bog. At a touch the body fell to pieces, and the bones were reverently interred in the churchyard of Shotts. It is said that the three murderers came to an untimely end.
Barnett, T. R (1944) Scottish Pilgrimage in the Land of Lost Content (Reprinted Edition) Great Britain: Oliver and Boyd Ltd.