SOME FAMILIAR PLACES 'ROOND MY HAME
We're gaun far's the Lily Loch
This lee-lang day in June
We'll speel the braes abune Shotts-Burn
An' sit on Cant Hills croon
Round Kirk-O'-Shotts we'll dauner slow
An' muse on bygane days
When Glegly Grossart rambled
oot ower the glens an' braes
Syne we'll ca' at Myres an' Wastfield
Muirhoose an' Birniehill
While up by at auld Fortissat
The view oor een will fill
We'll see Roughdyke an' Jersey
Green-Hill an' Fernieshaw
An' Hillhooserig an' Penty
While mid-day sunbeams fa'
We'll strap alang by Hills-O' Hirst
The 'Rigs an' Highmuirheid
We'll kindly keek at Wellesley
As yont road we speed
We'll see the Hill an' Blairmakhole
Knoweheid an' Quarryneuk
An' think o' ither places syne
While forward we maun look
South Blair an' Blairmains near the loch
We'll scan while toddlin' on-
Dewshill, Bentfit an' Papperthills
Upraised as on a Throne
We'll westward by Duntilland gang
An' whiles we'll fondly see
Some Faint an' fadin' traces
O' Hamestead, Bush an' tree
By Lane Mountcow an' Braco Glen
oor feet will hameword turn
Doon past Loch-Hill and Annies-Hill
ower Tipper-Davy Burn
There may be brawer places 'tweel
than thae wild rugger hills
But aye some glamour lingers
Roond sic moors an' mossy rills
There's calm the toon can never ken
there's halesome caller air
There are whisp'rings in the silence
That I hear nae ither where
Far, far awa' there's mony a ane
Wha weel would like to stray
'Mang kindly friends on Hills O' Shotts
The Green, the Grim, the Grey
May peace an' joy be in the hearts
O' friends ayont the sea
Baith here an' there may a' leal folk
In harmony agree
JERSAY BRIG.
Should ye care for soothin'quateness
Awa' frae car or gig,
Come ye wi' me, if ye're willin'
The road by Jersay Brig.
Far oot on a peacefu' muirlan'
Broon, and rocky, and big,
There's a hantle sykes and burnies
And a'e wee auld-time brig.
Langsyne aroon' this high muirlan'
Mony a weel-plooghed rig,
And mony a lowly homestead
Was seen near Jersay Brig.
Aft atweel in years depairted
The feck o' folk would dig,
A stack o' peats for the winter
Frae muirs around the brig.
A'e day when the wind was reezie
An auld man lost his wig,
An his hat forby, in crossing'
The open muirlan' brig.
It is telt that steerin' ladies
Wha caired na e'en a' a fig,
In sicht o' the Kirk folk dookit
In burnie near the brig.
Braw lads and lassies at nicht fa'
Unco fond o' a jig,
Merrily danced on the green swaird
Abune the auld stane brig.
Syne quately when drooped the gloamin'
A'e lassie, weel-faured, trig,
Crackit lang time wi' her laddie
In bield o' Jersay Brig.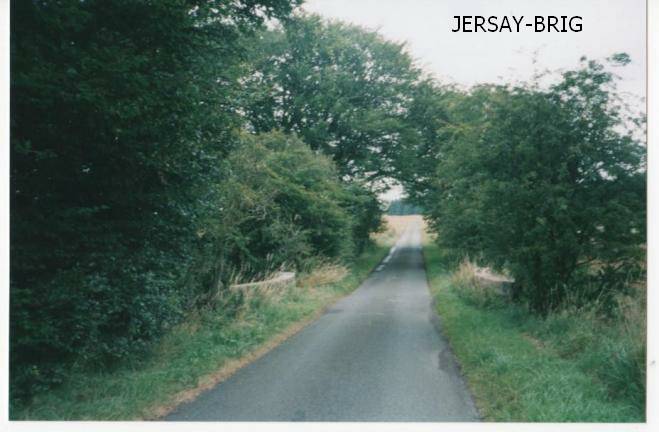 THE SILENT MILL.
Owre the waistlin' rim o' the Parish o' Shotts
Doon the braes frae the Linnrigs twa,
There's a deep, steep Glen weel clad wi' trees
Airts onward near Chapelha',
And weel I wat ilka time I see 't
To me it's by-ordinar' braw.
In days lang gane an auld Meal Mill
Hummed blithe at heid o' the Glen,
And the water that made the wheels gang roond
Cam' frae hills o' Shotts ye ken,
O, a bonnie place and a cheery place
Was the Glen o' the Fairies then.
The Shotts burn wimples frae yont the Kirk
Up by on the bare braeside,
Then sings its sang roon mony a turn
'Tween Peatpots and Langside,
To me atweel it's a loe'some burn
Tho' it isna deep or wide.
Noo, there's roofless wa's and a Silent Mill
Whaur the Fairy Glen begins,
Nae mill wheen's splash, nor happers click
I' the lade nae water rins,
And lanesome like the burn slips by
In its track frae the muirlan' linns.
ON THE SLATE?
The Kirk roof, we have found o' late,
Is badly in the need o' slate;
Nae shame tae roof, the puir, auld fella,
But soon we'll need oor umbarella!
Through rain, hail, snaw, up on the hill,
The Kirk may staun' a long time still,
But, if we dinna act the noo,
We'll sit there in a soggy pew!
Some men went up tae check the slate,
And cam doon wi' an estimate;
Haunded it ower, wi' dooncast een,
And then we made an awfu' scene!
Thirty thou! – the figure quotit,
Needless to say, we hivna got it!
But, though the sum sounds much too dear,
It could be paid – ower a year …..
Three hunder member we do hiv,
And now must ask then all to give
Twa pund a week; it's no' too much,
If we cut doon on cigs. and such!
Whit's this? The Kirk takin' on tick?
"It's frae the deil!" "We'll no hae it!"
But "slate" is now the world's way,
If what we want, we canna pay.
So dig in deep, yir haun' tae pockit,
Or when in Kirk, ye may get soakit!
I know this is a lot tae ask,
The fundin' o' this awesome task;
But think, you people shy to pay,
You may yet want the Kirk some day.
-David J. Nelson (Sept. 1997)
Thoughts on Kirk O Shotts
---
The cauld March wind blaws frae the East
The blast comes o'er Shotts mair
and we seldom gie a passing thocht
To our forbears lying there

Nae cairn is there to mairk the spot
of folk we proudly own
Nae sculptured marble has been their lot
Nor yet an inscribed stone

But we who bear that ancient name
And maintain it with great honour
Commit ourselves its right to fame
Our glorious name of Connor

Ephraim Connor [1891-1980]